On the morning of 25th February 1915, a volley of shots rang out and eleven British and Irish soldiers and one French civilian fell dead into a freshly prepared grave. They had been brutally executed under the walls of the Chateau in Guise by the occupying German forces. Their crime? Being trapped in occupied territory and treated as spies.
The rapid German advance from Mons towards Paris sparked several battles including the rear guard battle at Etreux in August 1914. The eleven soldiers, from the Connaught Rangers, the Munster Fusiliers and one from the 15th King's Hussars found themselves behind enemy lines with little prospect of immediate escape. They lived rough until they were taken in by the villagers of Iron, Aisne and concealed from the Germans despite the obvious risks to the local population.
Eventually they were discovered, tried, beaten and executed along with the mill owner. Houses in the village of Iron were torched and some of the villagers were sent to POW camps in Germany. Many lives were ruined by this tragedy.
In the 1920s the soldiers' bodies were exhumed and interred in the civil graveyard in Guise. Later their graves were adopted by the War Grave Commission and were given military headstones.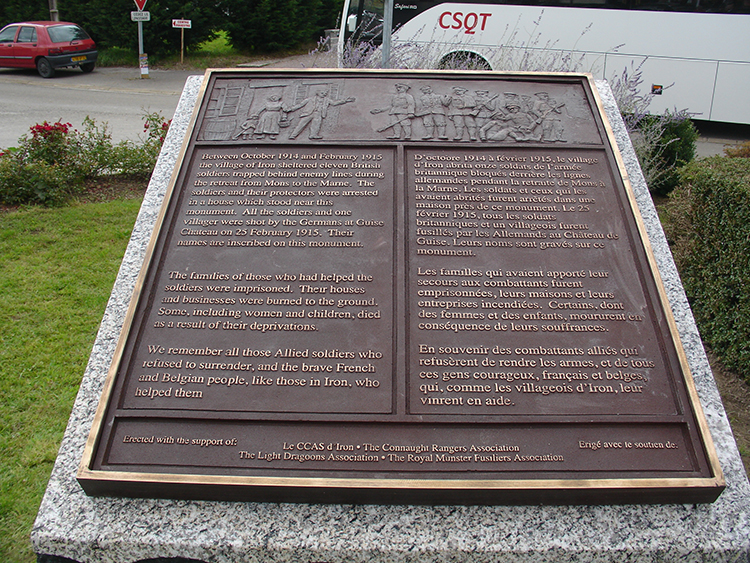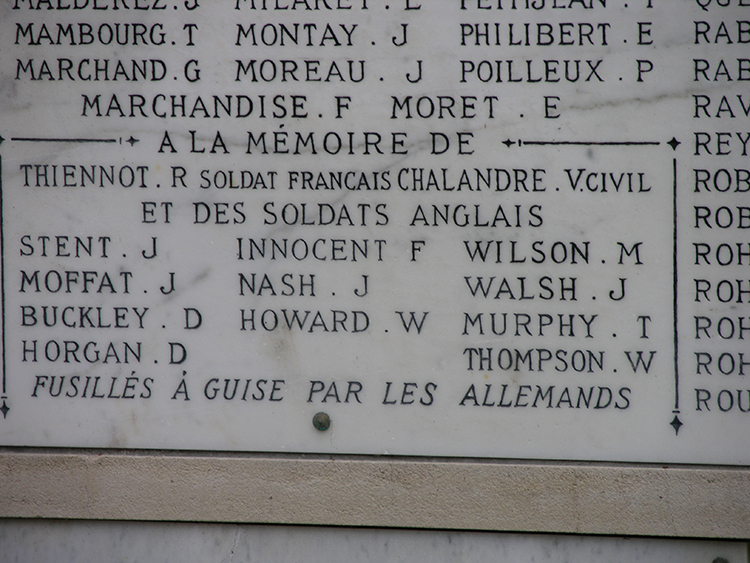 In 2009, we discovered the execution spot was not marked or respected, neither was there anything in the village of Iron to commemorate events and the mill owner's body lay in an unmarked pauper's grave. We set up a charity, Iron Memorial Fund, UK Charity Commission Number XT25503, and began raising funds. In September 2011, a memorial was designed and erected in the centre of Iron, the execution site was cleared and a plinth installed with a plaque, and the mill owner's grave was marked with a headstone and a plaque.
On the 25th February, 2015, we marked the 100th anniversary of their deaths.
The purpose of this website is to highlight the tales of heroism, share some of the sadness and keep the memories alive. The full story of the Iron 12, written by Hedley Malloch, can be read in full here, or visit the photo galleries or the commemorative events pages to see pictures and videos. We are currently planning self-guided tours of the sites and details will be added to this website shortly. There is lots of background information too which we hope you will find interesting.
If you have any feedback on this website or on any aspect of the Iron 12 story, please get in touch with us here.  In particular, we are interested to hear from anyone who is a descendent of any of the soldiers who were executed in Guise.
There are costs associated with maintaining the memorials and website and we welcome donations towards this.